Roger McKnight discusses impact of Irving Oil explosion
The Canadian Press · Posted: Oct 09, 2018 1:09 PM ET | Last Updated: October 9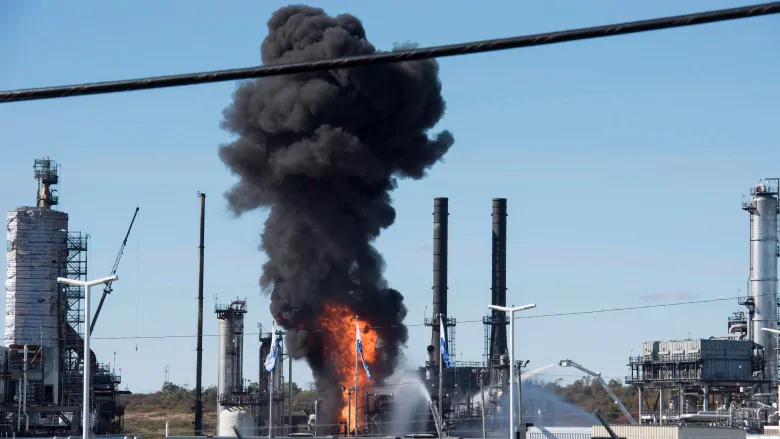 The Irving Oil refinery in Saint John, N.B., produces 320,000 barrels of different energy products per day. (Stephen MacGillivray/Canadian Press)
The explosion that rocked Irving Oil's Saint John refinery on Monday is unlikely to affect the price of gas in Canada, according to experts.
Fuel market analysts say the quick return to the facility and the fact that fuel storage tanks are likely full mean the refinery shutdown should have little short-term impact on consumers.
In a tweet, the company says the refinery as a whole is safe and the site of the incident is "isolated and contained."
Dan McTeague, senior petroleum analyst at GasBuddy.com, says gasoline prices in the key New York Harbour market were actually trending lower on Tuesday morning as storage levels in the northeastern U.S. are 20 per cent higher than they were a year ago.
Michael Ervin, senior vice-president at the Kent Group Ltd., says even if Irving's refinery maintenance shutdown is extended because of damage from the explosion, the fact it is on the ocean means alternative supplies of fuel can easily be brought in from offshore to ensure there are no shortages and resulting price increases.
Roger McKnight, chief petroleum analyst with En-Pro Inc., says that unless the shutdown is exceptionally long or there's extensive damage, Canadian gasoline prices are unlikely to soar.
But he did note that Hurricane Michael, currently bearing down on the Gulf of Mexico, could have an impact. "That's going to cause some refiners to start slowing down in the U.S., which is not going to help anything whatsoever," he said.
Irving says crews working to maintain the refinery will be back on site this evening after it was determined there are no lingering air quality or safety concerns after the explosion Monday.
"Through our continuous air monitoring, we have determined that there are no concerns with regards to air quality," Irving stated.
"Accordingly, we are currently planning to have our turnaround team back on site this evening for the night shift. Our plans for returning to full turnaround mode will be discussed at that time."